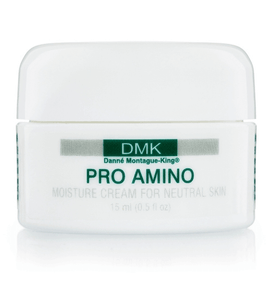 ONLY AVAILABLE DIRECTLY THROUGH URBAN RETREAT DERMA SPA - This item is NOT sold out.

Contact Us for more information, pricing, and to purchase.
**All DMK products can only be prescribed by a DMK Skin Revision Technician**
Please fill out a consultation form.
An amino rich nourishing crème, designed for youthful skin to help balance and maintain a plump, healthy, glowing complexion.
Work to prevent signs of ageing and fine lines with Pro Amino, its rich nutritional formulation replicates the skins own natural moisturising factors to balance the skin. Lush with eight essential amino acids, proteins, vitamin C and hydroscopic lipids, Pro Amino crème assists to keep healthy, young cells alive longer to aid with age management. Made with safflower oil, an antioxidant packed with vitamin A and linoleic acid (an essential fatty acid), this crème helps to maintain skin elasticity and retain moisture for a bouncy, bright, healthy, and youthful complexion.