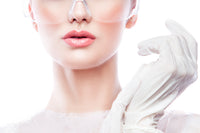 More Results. Less Fluff
Non-invasive, therapuetic and advanced treatments include result-oriented facials, Hydrfacial MD, Aerolase, photofacials, nano-fractional, micro-needling, custom peels, laser hair removal, and much, much more.
Book A Service
DMK
DMK Products cannot be sold online through the Urban Retreat Derma Spa online shop. We ask that you fill out a consultation form, and then call or email us at the shop to arrange for you to purchase and receive your DMK product.
** The products listed are not sold out, we have plenty in stock. The price listed is not accurate. Contact us to get more info and true pricing **
I have had the best experience here! I love the whole feel of this place, very lovely, beautiful rooms and great products. My skin has never looked better after having these treatments; they are fabulous. I have never felt so beautiful and well taken care of. This place and its staff are top notch, I can't recommend it enough! Simply the best in the city.

Cheri K.
I have been a regular client at Urban retreat day spa for many years. I have had many services over the years and all of them have been spectacular!!
Michelle is THE most educated esthetician i have ever met. The equipment they have here far exceeds any place i have ever been to. You will appreciate her passion for medical esthetics. The results from any of her treatments will truly amaze you.

Rachelle S.