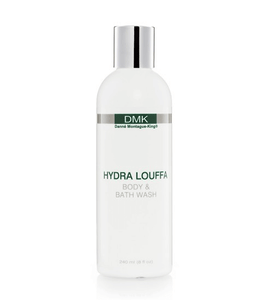 ONLY AVAILABLE DIRECTLY THROUGH URBAN RETREAT DERMA SPA - This item is NOT sold out.

Contact Us for more information, pricing, and to purchase.
**All DMK products can only be prescribed by a DMK Skin Revision Technician**
Please fill out a consultation form.
For dry skin, ingrown hairs and folliculitis, Hydra Louffa is the ideal nourishing body wash and exfoliator in one.
Cleanse the skin and exfoliate away dead cells without causing the micro traumas harsh, abrasive scrubs do to the skin. Hydra Louffa's non-granular gel formulation is a liquid alternative to sponge luffas, which can quickly collect dead skin cells and bacteria, this gel works to dissolve and desquamate dead skin cells without irritating reactive skin. The soothing properties of chamomile and exfoliating actions of birch bark extract are what make this such an effective and unique product. It is ideal for conditions such as eczema, folliculitis and dermatitis, and it also works to prevent ingrown hairs and helps a spray tan last longer and fade evenly.