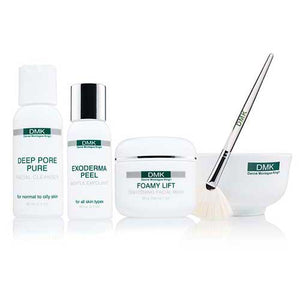 ONLY AVAILABLE DIRECTLY THROUGH URBAN RETREAT DERMA SPA

Contact Us for more information, pricing, and to purchase.
**All DMK products can only be prescribed by a DMK Skin Revision Technician**
Please fill out a consultation form.
Great for skin with Acne, Rosacea, Pigmentation, Dehydration, and Anti-Aging.
Over 40 years has been spent perfecting DMK's signature Enzyme Therapy treatments, utilizing the beneficial effects of transfer messenger enzymes. It encourages blood circulation, oxygenation and the lymphatic drainage system while simultaneously, through reverse osmosis, helping to flush away toxins and free radicals as well as stimulating collagen production. Formulated to be the basis of all DMK Skin Revision treatments to enhance optimal skin function, Enzyme Therapy works to create long-lasting results.
This kit allows for 5-6 at-home treatments, which can be done 1-2 times per week for best results.