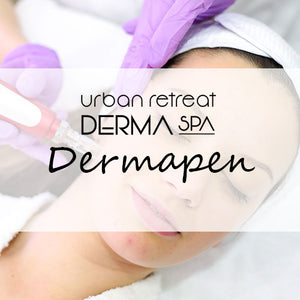 Microneedling? Treatments for a Wide Array of Skincare Needs
Hailed as a breakthrough in anti-aging treatments, micro needling can take years off your appearance and reduce or eliminate acne scars, pigmentation, rosacea, sagging skin, stretch marks, and more. Dermapen? micro needling is shown to be more effective than IPL, fraxal laser, and chemical peels in clinical studies.
What to Expect

During this 45 minute treatment, a manual exfoliation is done, a local anaesthetic applied to treatment area, and the skin thoroughly cleansed.
During the micro needling process most clients experience little to no discomfort.
The last step is the application of a nourishing and cooling masque that is saturated with vitamins and hyaluronic filler which quickly absorb into the skin.
Following the treatment, a mild sunburned feeling can be expected for 1 hour or more. Most people will have no down time. This is a remarkable treatment that can be done on a lunch break!
Urban Retreat Day Spa uses the Eclipse pen (Health Canada approved) for its safety and effectiveness. Don?t be fooled by other roller style systems as they produce much more discomfort, potential scarring, and no ability to address smaller areas accurately.
**Be sure to ask about our multi-treatment packages.