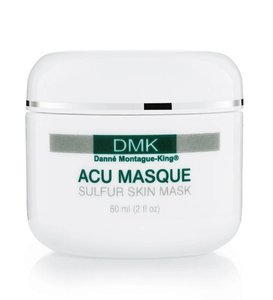 ONLY AVAILABLE DIRECTLY THROUGH URBAN RETREAT DERMA SPA - This item is NOT sold out.

Contact Us for more information, pricing, and to purchase.
**All DMK products can only be prescribed by a DMK Skin Revision Technician**
Ideal for people with stubborn blemishes, acne, and congested skin Acu Masque helps to combat toxins while it assists to clear and soothe the skin. Acu Masque works to dissolve dead cells and sebum that blocks the pores, and absorb the oil trapped within them. For maximum efficacy the masque uses bentonite which has the ability to absorb toxins and pull out impurities and congestions without harsh drying or stripping of the skin. This aids to clear blackheads and blemishes and prevent pimple eruptions. Designed with natures 'beauty mineral' sulphur, this versatile masques helps to maintain a clear and youthful complexion and manage acne throughout the treatment process.